Self-Leadership Transformation
Masterclass
Exclusively available for five (5) participants.

Start: September 5, 2022
You are looking to live a more fulfilled and engaging life.
You want to boost your performance.
You are an aspiring leader looking
to become a purpose-driven human leader.

Find your purpose guided by this
Self-Leadership Transformation Masterclass
and lead yourself to the next level.


Know yourself. Lead yourself. Lead others.
Find your Inner Compass and
unearth your superpower
in your professional and personal life?


Understand yourself, your own goals
and open the door for your next steps.
are you ready to make a difference
now and in the future?
This 12-week program is filled with
1:1 coachings,
quality time with peers,
open conversations, and
reflective time for yourself!
are you ready to become
the human leader for the next generation?
Your clear path to your self-leadership transformation
As a purpose-driven leader, you will
Be CREDIBLE by walking your talk and integrating your purpose in all your actions and interactions.
LEARN to lead yourself first before you lead others.
Develop EQ and become more intentional in your interactions.
Be AUTHENTIC. It all starts INSIDE YOU.
Take RESPONSIBILITY to make a difference and let your purpose and values become your North Star that guides your choices, decisions, and action.
Throughout your journey, you will
Identify the NEGATIVE AND POSITIVE PATTERNS/habits and behaviors present in your life.
Identify your PURPOSE & Develop your INTERNAL COMPASS.
Create a FUTURE VISION.
Recognize and plan to OVERCOME BARRIERS that are holding you back.
Develop and receive guidance on how to successfully implement your 90-day ACTION PLAN.
12 Week program flow
10-step SML® (Self-Managing Leadership) program based on the "Oxford Leadership Compass" (lifetime access).
Three (3) 1-1 ONLINE COACHING sessions along your SML® journey. The coaching sessions last 30 minutes and take place remotely.
Three (3) group reflection sessions lasting 45 minutes
Recognized CERTIFICATION
Limited to 5 participants
Your Self-Leadership Transformation Journey is a well thought out combination of One-to-One Online Coaching, peer group reflection sessions alongside the 10-step SML® program.

Week 1 - Module 1 "Facts" & 2 "Insights" of the SML®
Week 2 - One-to-One Online Coaching
Week 3 - Module 3 "Purpose" & 4 "Values" of the SML®
Week 4 - Group Reflection Session
Week 5 - Module 5 "Vision" & 6 "Barriers" of the SML®
Week 6 - One-to-One Online Coaching
Week 7 - Group Reflection Session
Week 8 - Module 7 "Goals" & 8 "Strategies" of the SML®
Week 9 - One-to-One Online Coaching
Week 10 - Module 9 "Action Plan" of the SML®
Week 11 - Module 10 "Implementation" of the SML®
Week 12 - Group Reflection Session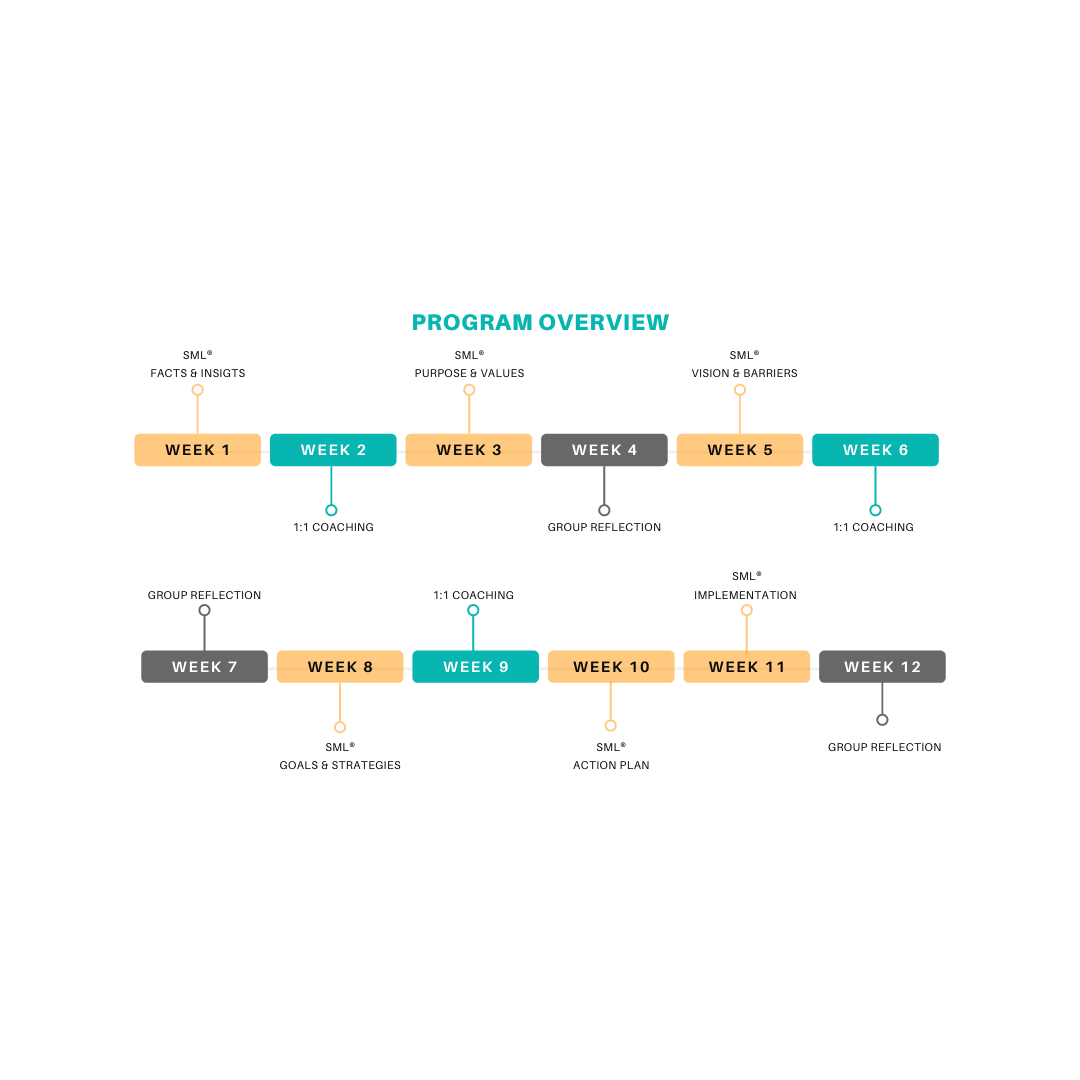 Are you ready for your new chapter?
what customers say
"Britta has a wonderful balanced ability with thoughtful insights, sensing when to pause and when to push in a way that is effective and productive while simultaneously kind and generous, providing a fantastic experience of supportive partnership."
what customers say
"Coaching with purpose – that is what Britta does!"
what customers say
"Whether you are looking to improve day-to-day business outcomes, reach strategic business goals, or transform the future of your movement, you should reach out to Britta."